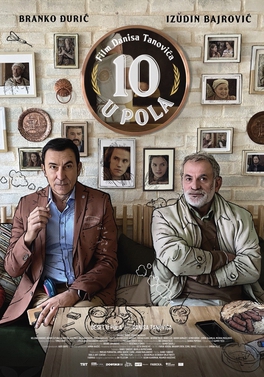 Celebrating its 9th year, the Bosphorus Film Festival will run from October 23rd to 30th in Istanbul. The organisers have just unveiled the title of the opening film: "Not So Friendly Neighbourhood Affair" (Deset U Pola) by Bosnian Oscar-winning director Danis Tanovic. The film had its world premiere this summer at the 27th Sarajevo Film Festival.
"Not So Friendly Neighbourhood Affair": A very contemporary story
"A not-so-interesting local feud between fast-food vendors on the sloping cobblestone streets of picturesque Sarajevo Old Town". "As the Old Town tries to recover from a difficult pandemic year, a visitor from Zagreb comes to pick up the best kebabs in town. A harmless gesture which causes the collapse of the local residents' professional and private lives."
---
In 2001 Danis Tanovic's "No Man's Land" won the Oscar for Best International Feature Film and the Golden Globe for Best Foreign Language Film. Tanovic will receive an honorary award at the opening ceremony on October 23rd. A masterclass is also scheduled on October 24th at the Atlas cinema.
Organized by the Bosphorus Culture and Arts Foundation, the festival is supported by the Turkish Ministry of Culture and Tourism as well as the national broadcaster TRT.
For more information on the audiovisual news in Turkey, click here.
Sources: dailysabah.com, imdb.com, screendaily.com, mubi.com