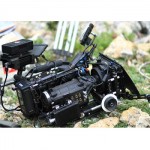 For 2015 Constantine has become "Arab Culture Capital", an event which allows the city to breathe new life into its cultural institutions and showcase Algerian history and culture across the Arab world. During the event there will also be a frenzy of film production in the city, with fifteen films (shorts and feature films, dramas and documentaries) being made by the cinema section of the cultural event's organising committee.
In April, Constantine was the location for four films showing the historic struggles of the Algerians and Constantines. On the main square of Si El Hoes, Ahmed Rachemi filmed the first scenes of his new feature "Les sept remparts de la citadelle" in the presence of the Minister of Culture, Nadia Labidi. The film-maker says his film is a work of memory, to "unearth sections of Algeria's history and its critical periods." Through this adaptation of Mohamed Maarafia's novel he wants to express "the harsh reality of the colonizers, despoilers, the anger of the Algerian, violently dispossessed of his land, and his stubbornness and willingness to fight without let-up to get that land back."
Haya Djelloul and Samir Benalioueh's documentary, "La Fantastique résistance constantinoise à la conquête française", takes the same theme, looking at the Constantine's mobilization against the colonisers. While in a second documentary, "Khafaya Qasantina" (Constantine's Mysteries), Farid Juma explores the older history of the underground passages and caves of Cirta.
Finally, on the sidelines of the event, but still in Constantine, Ahcène Osmani started filming his blockbuster "The Lions of Algeria". This two and a half hour project followed by a series of 30 episodes of 26 minutes, chronicles the national liberation movement which inspired Algerians from 1945 to July 1962. With the blessing of the Ministry of Culture and the Mujahideen, the project will give new life to the Algerian film industry, with film locations in thirty districts and the participation of nearly 100,000 extras and 300 technicians.
Sources: aps.dz et elwatan.com