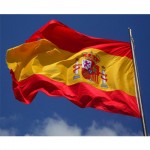 The Spanish actor Antonio Resines has been acting-chair of Spain's Academia de Cine since last February's resignation of producer and distributor Enrique Gonzalez Macho, for "personal reasons", less than a year after his re-election.
On April 1st, when nominations closed, the only candidate was Antonio Resines. He was joined by two candidates for the posts of vice-chair: the director Gracia Querejeta and producer Edmon Roch. Thus at the AGM on April 9th there was no vote, members ratified Antonio Resines as chairman for the next four years.
The Academia was created by producer Alfredo Matas. In November 1985 he organized a meeting of people working in the Spanish film industry and from that came the idea of creating an organization to promote Spanish cinema and encourage those working in it. The Academia was founded in November 1986 and each year awards the Goyas.
Sources: elconfidencial.com, cineuropa.com, wikipédia