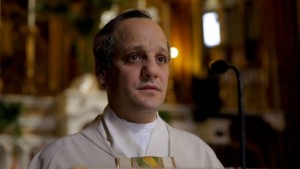 Produced by Taodue and Mediaset Premium, "Chiamatemi Francesco" (Call me Francis) looks at the path followed by Jorge Mario Bergoglio, particularly his life as a young Jesuit in Argentina during the dictatorship and Dirty War there before he became the Pope of the Catholic Church, called Francis, in 2013.
The Argentinian actor Rodrigo de la Serna plays Francis in Daniele Lucchetti's film ("Mio fratello è figlio unico", "La nostra vita") with a budget of 15 million euros and distribution rights already sold to over 40 countries.
The film was released in 700 Italian cinemas on December 3rd, a few days before the Jubilee of Mercy marking the beginning of the Holy Year. A television version is already scheduled, re-edited as four 50 minute episodes (Canale 5 in Italy).
Sources : Cineuropa, La Repubblica