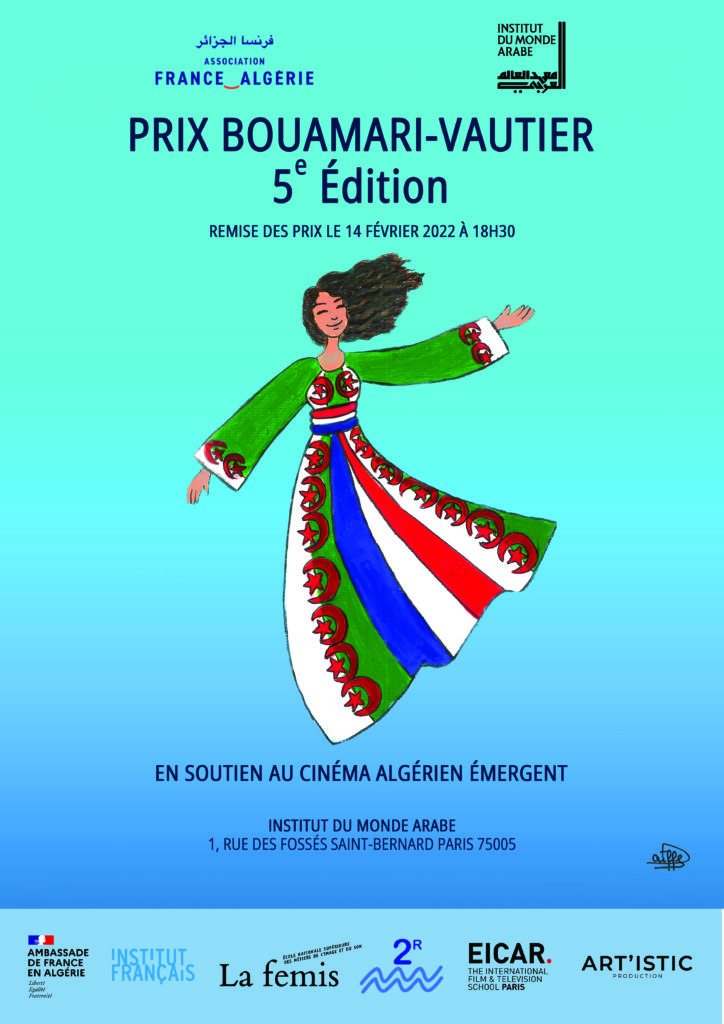 The 5th Bouamari-Vautier Awards were held on Monday February 14th at the Institut du Monde Arabe in Paris.
This annual event, organized by the Association France-Algérie, is an opportunity to reward the best feature and documentary by new Algerian and Franco-Algerian talent.
Ten films selected by the Association were screened by an 8-person jury, headed by director Dominique Cabrera. They gave two awards and, for the first time, a special mention.
The Best Full Length Feature Award went to Anis Djaad's La vie d'après.
Born in Algiers, Anis Djaad is a journalist, novelist and director, with two novels and three short films to his credit (Le hublot, Passage à niveau and Le voyage de Keltoum). Le voyage de Keltoum received the Best Short Film Award at Dakar's Image et Vie festival in 2017. La vie d'après, his first feature film, has already won a Special Mention at last year's Amiens International Film Festival.
La vie d'après is the story of Hadjer and her son, Djamil following the assassination of her husband by terrorists. Both live in a village in western Algeria. A rumour starts circulating about them, so to escape increasing harassment Hadjer decides to leave with her son.
The Best Documentary Award went to Ne nous racontez plus d'histoires ! by Ferhat Mouhali and Carole Filiu-Mouhali.
Carole Filiu, daughter of French colonialists in Algeria, is a journalist and film-maker. She has worked for Sud Ouest, a regional newspaper, and in 2013 made a web-documentary with Ferhat Mouhali: Fatea – Femmes au travail en Algérie.
Ferhat Mouhali, an Algerian born in Kabylie, is a film director. Before making his first films he was an activist with the association Rassemblement Action Jeunesse. Following the training provided at Bejaia Doc, he directed his first short film, Heureusement que le temps passe, which won the Jury Award at the Amazigh Film Festival in Tizi Ouzou. In 2020 he worked again with Carole Filiu on Ne nous racontez plus d'histoires ! The film was selected for the 2020 PriMed organized by the CMCA in Marseille.
Ne nous racontez plus d'histoires! (Stop telling us lies!) traces two lives: a Frenchwoman, born of French colonialist parents, and an Algerian. The Algerian War of Independence rocked both their childhoods. Each lived one side of the story. Based on encounters and testimonies, the directors explore the different narratives of this war.
Jury Special Mention went to Salah Issaad's Soula.
Salah Issaad is an Algerian screenwriter, director and producer. He has directed several short drama films, of various genres, about human relationships. His first feature, Soula, was selected at the 2021 Red Sea International Film Festival and received the Coup de Coeur from the Cinémathèque d'Afrique. Soula was also shown at the 72nd Berlin Film Festival.
Soula is a road movie about a young single mother rejected by her family who claim she has dishonoured them. Trying to survive with her baby she has unfortunate encounters.
Sources : Facebook, APS, AFA, Film Documentaire, Mad Distribution, FIFAM.