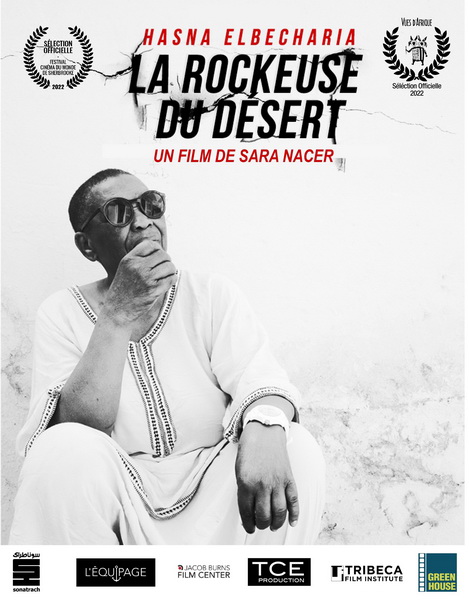 Sara Nacer's documentary La Rockeuse du Désert was premiered during the Vues d'Afrique festival in Montreal on Thursday April 7th.
La Rockeuse du Désert traces the career of the first woman to play the guembri, Hasna El Bacharia. The guembri is an instrument with three strings attached to a rectangular sound box, "the only instrument," according to the director "of Diwane music and dance".  It was traditionally played by the mâalem ("one who knows" in Arabic) and exclusively by men. Hasna El Bacharia was the first female musician to cross the culture's social divide and make this musical tradition her own. She became well-known later in life, at the age of 50, during a visit to France. Before that she mainly played at weddings in desert villages with her guembri and electric guitar.
This project is important for the director, it is the "first film profile of the first woman virtuoso on the guembri". Above all, Sara Nacer explains, "she is an example for women. Today there's nothing remarkable about a woman playing the guembri. But 40 years ago there was only one, fighting against tradition."
Filmed between 2013 and 2018, it took Ms Nacer almost 10 years to complete. With no film-making experience she was director, camera, sound and editor. She followed the musician at home in Algeria and during her tours in France and Canada. Using material from numerous archives she has been able to retrace El Bacharia's long career.
Of Algerian origin Sara Nacer lives and works in Montreal. In 2019 she directed the documentary Qu'ils partent tous on Algerian youth during the Hirak. The film was a great success during screenings at the Cinémathèque québécoise.
Sources: L'expression, Le devoir, Vues d'Afrique