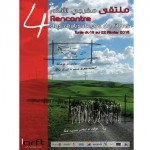 At the 4th Rencontre des réalisateurs de films (get-together of film-makers) which was held from February 18th to 22nd, about sixty Tunisian films were shown to the public (short, long, documentary) in 5 cinemas. This event, created by the Association des réalisateurs de films tunisiens (ARFT) "aims to present and to publicize Tunisian films produced the previous year, while also encouraging film-makers of every generation to exchange their experiences" according to Khaled Barsaoui, film-maker and event coordinator. During the Rencontre, shorts, feature films and documentaries were screened.
Six awards were presented: Best Feature, Best First Feature, Best Short Drama, Best First Short Drama, Best Documentary, Best First Documentary.
The opening night of this 4th Rencontre saw the screening of two films: Khaled Barsaoui's "Ahmed Baha Eddine Ataya, trapeze artist without a net" and Mohamed Challouf's "Tahar cheria à l'ombre du Baobab".
An evening of tributes was dedicated to directors Ahmed Lekhechine, René Vautier, Nacer Kasraoui and a young film-maker who died recently, Omar Jaziri.
There was a round table on "Cinema / Television: no hard feelings" and a training workshop about "Directing actors" for film and theatre students, young film-makers and student actors.
Sources: directinfo.webmanagercenter.com, tekiano.com et arf-tunisie.com