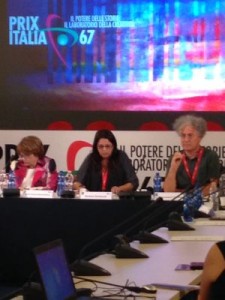 The CMCA contributed to a debate that took place in Turin on September 20, as part of the 67th Prix Italia : "Telling Difficult Matters : Human Trafficking and The New Slavery".
The participants were : Maria Grazia Giammarinaro, Special Reporter on trafficking in persons, especially women and children, UN; Francesco Carchedi, Sociologist; Barbara Schiavulli, Journalist, War Correspondent; Dima Al Joundi, Director; Vittoria Luda di Cortemiglia, Programme Coordinator, Emerging Crimes Unit, UNICRI; and Chris Rogers, BBC News Presenter/Reporter.
Slavery today is a complex phenomenon, altogether different from slavery of the past. The evil of the "slave trade" persists at a global level, "invisible" in the "information age" of the 21st Century. There are estimated to be 35.8 million people currently living in some form of modern slavery globally, according to the 2014 Global Slavery Index. Depriving a person of his/her individual freedom means slavery, although it often also involves trafficking human beings, removing organs, debt bondage, combined or servile marriage, the sale of exploitation of children, sexual exploitation and forced labour: domestic labour, in agriculture, in the construction sector, in industry and in entertainment. How to inform and at the same time fight indifference without falling into the trap of airing tear-jerking TV ? What kind of television format should be turned to ?
Film clips from Dima Al Joundi's "Bonne à Vendre", selected for CMCA's 2006 PriMed in the Reportage category, were screened during this successful and crowded afternoon at the Museum of Television and Radio in Turin.
The Prix Italia, organized by Rai (Radiotelevisione italiana), rewards the most creative TV, radio and Internet programs. The 67th edition took place from September 19 to September 24, with debates, round-table conferences, workshops… You can check the prize list by following this link : http://www.prixitalia.rai.it/ajaxpage.aspx?id=40