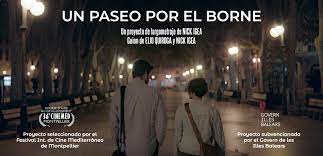 Presented in 2014 during Montpellier's Cinemed Meetings, Nick Igea's first feature Un paseo por el Borne (A walk through el Born) is currently filming in Palma on Majorca.
Co-written by Nick Igea, Elio Quiroga and Zebina Guerra, the film is about a man in his late fifties, Martín (played by Rodolfo Sancho), who has not achieved his dream of becoming a film-director. Having lived for many years in Barcelona he decides to return to his home town on Majorca and teach film there.
A dramatic comedy, the director explains that "it's a positive film, which speaks of unattainable dreams and how people influence each other. It's a film made from the heart, showing the great love of cinema which many of us feel in its most humanist perspective." He acknowledges the realistic and naturalistic influence of French film-makers such as François Ozon and Eric Rohmer in making his film.
Nick Igea has directed several short films such as Corderos de Dios (1996), Eduardo Peláez (2001), and Encounter (2009), which received 11 awards including Best International Short at the Indianapolis International Film Festival. He also taught film at Madrid's Complutense University and founded the Makkers School of Cinema.
Sources: Cineuropa, Torino Film Lab, Martina Seminara