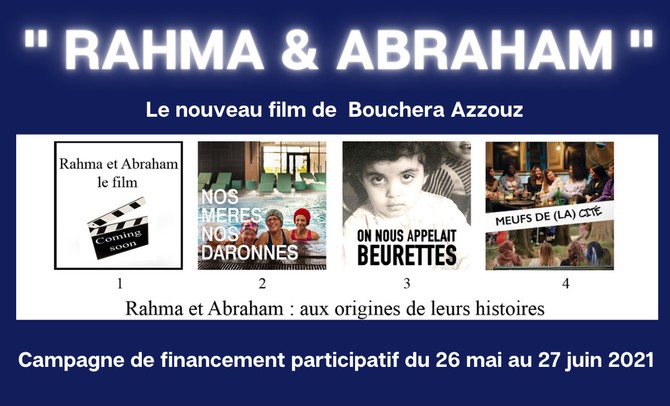 After her trilogy "Nos mères, nos daronnes", "On nous appelait beurettes" and "Meufs de (LA) Cité" director Bouchera Azzouz has launched a crowdfunding appeal on the KissKissBankBank platform for her new documentary "Rahma et Abraham".
"In order for women to count we must tell their stories!"
In 2015 870,000 people watched a documentary on France 2 about militant female immigrants coming to France in the 1970's "Nos Mères Nos Daronnes", a film which notably gave mothers living in the country's troubled neighbourhoods the chance to express themselves – women like Rahma and her friends Zineb, Yamina and Habiba.
Bouchera Azzouz' new documentary will be a "film about the origins", telling Rahma's life before she came to France:
"For Rahma it all started in North-East Morocco, in a rural village on the banks of the majestic Moulouya River. In the 1950's she was a 7-year-old girl living in a French protectorate. Because she is a girl she will never go to school, a deep injustice which will forge the strong character of a girl profoundly troubled by a situation imposed on her because of her gender, and which she will resist all her life. For lack of anything better, she learned sewing at the age of 7, determined to gain financial independence from a very young age. This is where her adventure, her path to emancipation, begins…"

Writer, documentary film-maker, director, essayist, Bouchera Azzouz wants to "unearth stories – feminine plural – and show the multi-faceted realities of immigration and life in working-class neighbourhoods." The crowdfunding campaign hopes to raise €20,000 so the director can start her research. The deadline to participate is June 27th click here.
For more information about broadcasting news in the Mediterranean area, click here.
Source: kisskissbankbank.com