Piargy by Macedonian director Ivo Trajkov is currently in post-production. This black and white feature film is based on a short story by Slovak writer František Švantner, published in 1942. A mystical thriller about the supposed revival of the Antichrist.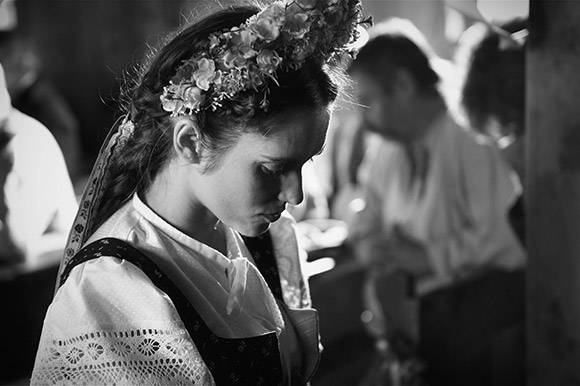 The film's starting point is a young woman, Juliša, living in the village of Piargy. After her marriage to the son of a wealthy landowner, she becomes a victim to her stepfather's lust. In his notes, the director says the film is "a classic drama in three acts with a love triangle, framed by a prologue and an epilogue, which explore the mystery of the birth of the Antichrist and the punishment of God. The backdrop is the approaching World War 2, a period which can be seen as a parallel to our own."
Ivo Trajkov co-wrote the screenplay with Czech scriptwriter Jana Skořepová. Most of the film was shot in Slovakia. Produced by ARINA and co-produced by the Czech company Macedonia's Story Scope, the premiere of Piargy is scheduled for February 2021.
The feature film was supported by the Slovak Audiovisual Fund, the Czech Film Fund, the North Macedonian Film Agency, RTVS, and the Slovak Republic's Ministry of Culture.