Like all audiovisual industries across the planet, Greece has had difficulties since the beginning of the year due to the Covid-19 crisis. The Ministry of Culture has passed resolutions to help the sector, setting up, for example, an emergency fund of €15 million.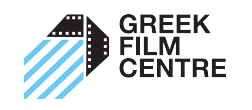 The Greek Cinema Centre (GFC) also wanted to play its part by offering aid. A special programme was created to support the film community. Worth €1.8 million, the programme is for documentary and short film projects. Film-makers can apply for a grant if they are just starting a project or if it is in development. There are two categories: one for script development and the other for production.
In the first category 50 documentaries and 50 short films will be selected, each one receiving €2,500.
In the second, another 50 projects will be chosen – 25 short films receiving €20,000 and 25 documentaries €30,000.
Applications can be submitted until June 15th. For your project to be considered for funding, your email must be addressed to covid19support@gfc.gr.
Sources :
https://cineuropa.org
https://news.gtp.gr
http://www.gfc.gr
Other articles about Greece