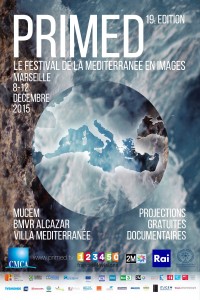 PriMed –
the Festival of the Mediterranean in images
will soon be back for its 19th edition !
The International Awards for Mediterranean Documentary and Reportage (PriMed) will take place from December 5th to 12th in Marseille.
24 documentaries and web-documentaries have been selected from the 348 films from 35 countries to take part in this annual rendez-vous whose aim is to find a wider audience for the best films about Mediterranean culture: society, culture, heritage, education, history.
On the programme:
Public screenings for the whole week so that all the chosen films can be seen. The screenings will be in Marseille at the Villa Méditerranée, MuCEM (Musée des Civilisations de l'Europe et de la Méditerranée) and at the BMVR de l'Alcazar.
A discussion on "Understanding the Issues Behind the Euro-Mediterranean Migrations".
PriMed 2015 Awards Ceremony on Friday December 11th at the Villa Méditerranée.
Free public screenings of the award-winning films on Saturday December 12th at the Villa Méditerranée and the BMVR de l'Alcazar.
Although the programme has not yet been finalised, you can preview trailers of the selected films on our web-site: www.primed.tv