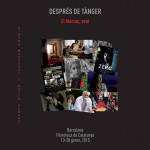 "Después de Tánger. Marruecos hoy" is an event initiated by the Filmoteca de Cataluña, the Consell Nacional dels Drets Humans (CNDH) and Arte et Dignidad en Acción (ARTEDEA) in partnership with the Moroccan Embassy in Spain and the CCM. Created in the late 90s, "Después de Tánger" is characterized by its freedom, its rejection of taboos and its commitment to human rights. It aims to shatter stereotypes by making the new Moroccan cinema and what it stands for better known in Spain.
On January 15th and 16th there were workshops and discussions, led by Moroccan film professionals, academics, experts and Catalan cultural figures.
The films screened at the Filmoteca de Cataluña were: Narjiss Nejjar's "Les yeux secs", Leila Kilani's "Nos lieux interdits", "Zero" by Nourddine Lakhmari, "My Land" by Nabil Ayouch, Hassan Kher's "Les héros de l'inconnu", Mohamed Asli's "A Casablanca, les anges ne volent pas", "Mort à vendre" by Faouzi Bensaid Leila Marrakchi's "Rock the Casbah", "Amal" by Ali Benkirane, Adil Fadili's "Courte vie", "Margelle" by Omar Mouldouira, Fadil Chouika's "La main gauche" and Halima Ouadiri's "Mokhtar".
Sources: communiqué de presse CCM, libe.ma