The PriMed week began with the Audience Award on Sunday, November 25th. The auditorium of Marseille's major museum, Mucem, was packed. Turning out in large numbers, the general public watched 6 short documentaries. But then choosing the best one was difficult – the quality of the films impressed the audience while the some of the subjects were quite harrowing. In the end the film by three young Egyptian directors, "The White Hell", received most votes. Certainly it was difficult to remain indifferent to the incredible images of men in a limestone quarry working in abominable conditions, without any protection, no gloves or masks, the air saturated with a white dust which infiltrates everything.
On Monday 26th the "PriMed info" editorial team, based in the Bibliothèque Alcazar, began filming subjects for the daily 9-minute magazine-programme broadcast on the Primed site, from France 3 Provence Alpes and France 3 Corse. Students from Marseille's School of Journalism were supervised by a senior France 2 news editor, Xavier Haglund, and the CMCA's multi-media manager Franco Revelli.

From Tuesday 27th every morning was given over to the Mediterranean Young People's Award. More than 2,000 high school students came to think about and discuss the films which were shown to them and then vote on the one they liked best. We shared some very powerful moments with these students. Some told us about their experiences as immigrants, others, like the young Egyptian women present in Marseille, impressed all their comrades with their mastery of the French language and their very mature reflections. The mornings were followed by master classes, in which the young people could talk to the directors of the three films they had watched in class. Their questions focused on working as a documentary film-maker or journalist, which studies they had followed, the cost of making a film, but also the choice of subjects and the difficulty of finding the right people to follow or interview.
Every afternoon there were public screenings of the 24 films selected for PriMed and afterwards the audiences could discuss each one with the directors.
On Friday the 29th the awards ceremony took place in the Salon d'Honneur de la Région, with 6th formers coming in large numbers to find out the complete list of winners at this 23rd PriMed.
On Saturday the 30th all the winning films were screened at the Alcazar.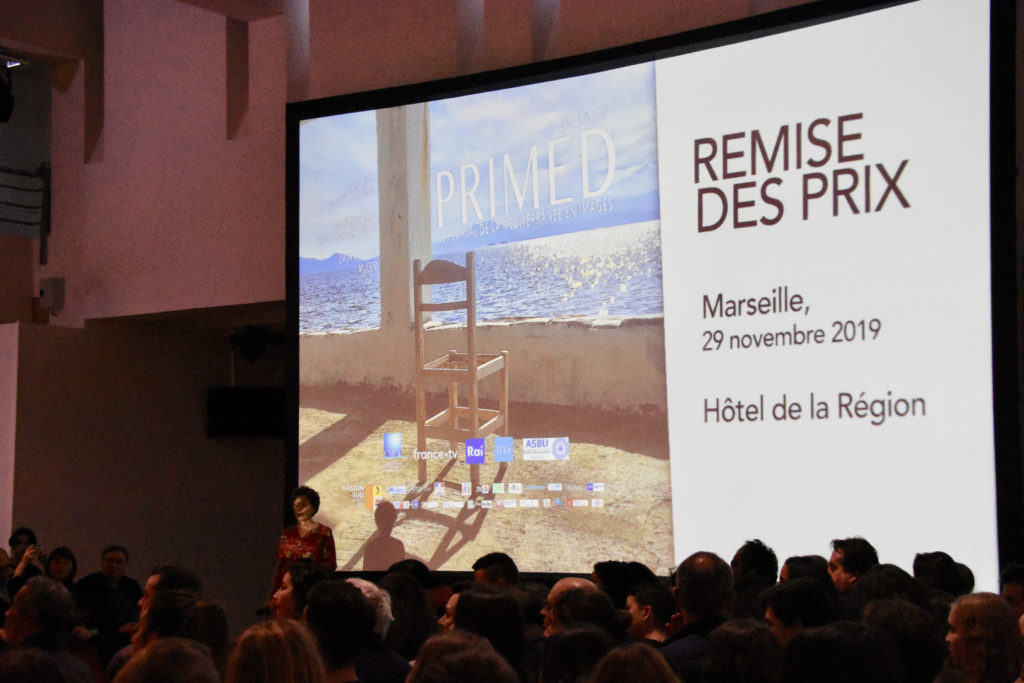 ---
MEDITERRANEAN ISSUES Award – Sponsored by France Télévisions
70 minutes, 2018
Production : Dalit KIMOR, Yes Docu (Israel)
Two Orthodox Jewish women refuse to keep quiet about the paedophilia in their communities. They pay a heavy price. Unintentionally Ornit became a heroine overnight. She and her children, Yankie and Mandy, sued the rabbi who had sexually assaulted them — and went through a horrible court case. They also had to deal with the violence of their neighbours who defended the rabbi. They were treated like informers. Genendy is married and has three children. Eighteen years ago she accused her father, also a well-known rabbi, of raping her when she was a teenager. Since then her family has rejected her. Both are assisted by Shana, an ultra-orthodox 29-year-old who works for an international Jewish organization. These two victims became role-models for other Orthodox Jews trying to combat the sexual assaults in their community.
Dalit KIMOR has a degree in Educational Psychology from the University of Jerusalem, and in Film and Television from Tel Aviv University. She has written and directed several documentaries: "Border Land" (2000) won the First Prize in the Investigative Reportage category at the DocAviv Festival. She then directed the documentaries "Baby on Order" (2000), "Just Love and a Hug" (2002), "The Year of my Death" (2005), "Pickles" (2006 – selected at the 2007 PriMed) and "Ida's Dance Club" (2009).
---
MEDITERRANEAN MEMORY Award – Sponsored by INA (Institut National de l'Audiovisuel)
CAMORRA, by Francesco PATIERNO
70 minutes, 2018
Production : Todos Contentos Y Yo Tambien, Rai Cinema, Rai Teche (Italy)
The rise of the Camorra in Naples shaped the evolution of the city. From smuggling in its early days to the powerful organized clans of today, the Camorra has developed its own para-military power. Through the use of archival footage and news bulletins, "Camorra" shows the true face of one of the Mafia's most powerful organizations.
Francesco PATIERNO was born in Naples in 1964. He is director, scriptwriter and author. Having studied architecture, he became creative director at an advertising agency. He then directed many TV shows. He has made several films, including: "Pater Familias" (2002), "Il mattino ha l'oro in bocca" (2007), the television series "Donne assassine" (2008), "Cose dell'altro mondo" (2011), "La gente che sta bene" (2014), "Naples '44" (2016), "Diva!" (2017).
---
FIRST FILM Award – Sponsored by RAI
NAR, by Meriem ACHOUR-BOUAKKAZ
52 minutes, 2019
Production : Afkar Films (Canada)

"Nar" explores a form of extreme violence in Algeria – self-immolation – an act which the film tries to understand through the testimonies of survivors and families bereaved by the loss of a brother or a son who chose fire as a way of expressing his despair. To kill time the young take refuge in cafés, or in sports stadiums where they shout out their rage to live. Feeling confined, constrained, all of them nourish the same dream: "harga", to leave the country clandestinely. But what seems to them to be their only hope is actually just another form of suicide.
A veterinary medicine graduate, Meriem ACHOUR-BOUAKKAZ is an Algerian film-maker working in Montreal since 2011. She did a course in making documentaries at Montreal's Institut National de l'Image et du Son (INIS). She has two films to her credit: "Harguine harguine" (2008) about young people who want at any cost to leave the country, risking their own lives, and she has co-directed "Nous dehors" which looks at women's lives and conditions through what they live in public.
---
ART HERITAGE AND CULTURES Award
WA DRARI, by Fatim-Zahra BENCHERKI
71 minutes, 2019
Production : Ali n' Productions, 2M (Morocco)
The makers of "Wa drari" followed the Moroccan rap duo Shayfeen for twelve months. Starting from nothing, Shobee and Small X have managed to impose their outspokenness, uniting millions of young people in a conservative country which keeps them on the margins of society. The film opens as they arrive at a crossroads in their career: either to try their luck in Europe or remain in Morocco, without resources and misunderstood forever. Through this intimate portrait, Shobee and Small-X show us young people struggling to overcome national stagnation, in a country where dreams die.
Born in Casablanca in 1985, graduating with a Master in Industrial Purchasing and Innovation, Fatim-Zahra BENCHERKI changed course in 2015 to work in audiovisual media. She joined the production company Ali n'Productions and is responsible for the group's content development strategy for television and feature films. In particular, she worked on the release of Nabil Ayouch's "Much Loved" and "Razzia" and produces mini-documentaries for in the European Union and the think-thank Les Citoyens. In 2016, she launched a subsidiary for the group, a talent incubator, Jawjab, to create digital and web content. She ran the company until 2018. As part of the incubator, she created a programme allowing women's voices to be heard more easily, and then, as part of that, she produced a web-series which had an international impact, "Marokkiat". In keeping with her work on gender, she produced the campaign "Because I'm a Man" for UN Women, on the positive masculinities in North Africa. Fatim-Zahra is also the author of the documentary series "Moroccans of the future", produced by 2M, of which "Wa drari" is one episode.
---
MEDITERRANEAN YOUNG'S PEOPLE Award
WA DRARI, by Fatim-Zahra BENCHERKI
---
SHORT MEDITERRANEAN (Audience Award)
THE WHITE HELL, by Ahmed ASSEM, Mahmoud KHALED and Omar SHASH
15 minutes, 2018
It is one of the most dangerous and deadly workplaces in Egypt. Stonecutters and heavy-plant drivers navigate through clouds of white dust, which then enters their lungs, making breathing difficult. 300 square kilometers of limestone quarries, where 35,000 workers suffer from terrible working conditions, all for the meager salary of $3 to $4 a day.
Ahmed ASSEM, Mahmoud KHALED and Omar SHASH are part of a team of film-makers who graduated from the film department at the Applied Arts Faculty at Helwan University in Cairo. Together they have made several short films, one of which won the Best Editing Award at the 2018 Masr Dot Bokra Film Festival.
---
SPECIAL MENTION ASBU
54 minutes, 2018
Production : EKLA Production, ViàOccitanie Montpellier (France)
Almost 30 years after the fall of the Iron Curtain, Europe is once again retreating behind its borders. Spain, Greece, Bulgaria, Hungary, France at Calais, and soon Norway are all closing their borders, creating walls. Media coverage of the migrants has increased the rate at which these fortifications are put in place and strengthened controls. Hundreds of thousands of ever more sophisticated and expensive cameras, sensors and other equipment, thousands of men to monitor them – costing, of course, billions of euros. But despite all these walls, several thousand refugees still arrive in Europe each month. So why continue to build them?
This film questions the European policy of withdrawal behind its frontiers – a documentary survey across Europe to investigate and understand the hidden side of these walls which we, the citizens of Europe, know little about.
Elsa PUTELAT has been working since 2005 in different sectors (legal, coordination, consultation) within various humanitarian organisations: Amnesty International, Médecins du Monde, ACAT, Cimade. In 2007 and 2010 she also worked on two films produced by Plateforme des ONG françaises. In 2018, she joined with Nicolas Dupuis to make "L'Europe au pied des murs".
Nicolas DUPUIS has made several films, short and long, since 2005, including "Quelle était belle mon usine" (52 minutes) in 2008, and "Tant qu'il y aura un blocus" (52 minutes) in 2012, co-directed with Matthieu Jeuland.
---
Prix "Moi, citoyen méditerranéen"
Mention SOUTH MEDITERRANEAN sponsored by CFI ( Canal France International) :
UNE ÂME UNIE, by Mirna IHAB, du high school Saint-Vincent of Cairo (Egypt)
Mention NORD MEDITERRANEAN :
QU'EST-CE QUI CARACTÉRISE UNE FEMME FORTE ? by Manon BEAUSIRE, Lycée Marseilleveyre – Marseille
---
BROADCASTING AWARDS
2M (Morocco) :
XALKO, by Sami MERMER and Hind BENCHEKROUN
100 minutes, 2019
Production : Les Films de la Tortue (Canada)
In the middle of Turkish Anatolia is a Kurdish village, Xalko. Filmmaker Sami Mermer, who, like so many others, has emigrated to the West, returns to visit the place where he was born. He finds Xalko populated mainly by women, with just a few men — those who remained. With co-director Hind Benchekroun he introduces us to the "flip side" of migration. Thanks to the filmmakers' close relationship with the people they film, "Xalko" chronicles a way of life threatened by the exodus, while also being a poignant portrait of strong women living without men. This return to source is also an opportunity to confront together the guilt of those who left, and the bitterness – often expressed with humour – of those who have worked hard to keep the life of the village afloat.
Sami MERMER, born in Turkey, and Hind BENCHEKROUN, from Morocco, have been working in the world of cinema for several years. Together they directed the documentaries "The Box of Lanzo" (2006), on homelessness in the United States, "Turtles do not die of old age" (2010), about three old men in northern Morocco, and "Callshop Istanbul" (2015), about immigrants passing through Istanbul. This film has been shown in several festivals, winning numerous awards: the Grand Prix 2M and the Fidadoc Human Rights Award in Agadir (2016), Best Documentary at the Duhok Film Festival and at the Golden Tree Film Festival. It was also nominated for Best Editing and Best Documentary at the 2017 Gala-Québec Cinéma.
France 3 Corse ViaStella :
XALKO, by Sami MERMER and Hind BENCHEKROUN
RAI 3 (Italy) :
100 minutes, 2018
Production : Sandpaper Films (UK), Peggy Pictures (UK), Sant & Usant (Norway)

What or who does international justice serve? In 2012 a historic trial began in The Hague, that of General Ratko Mladić, who led the siege of Sarajevo and the genocide of Srebrenica. For five years the two filmmakers did a huge job editing hundreds of hours of footage — giving voice to the victims but also to the lawyers of Mladić and his relatives.
Henry SINGER is one of the most critically acclaimed documentary filmmakers in the UK. He has won or been nominated for all the major British documentary awards, including BAFTA, the Royal Television Society, the Grierson Award, Broadcast, Broadcasting Press Guild, Televisual and Emmy. His films have been screened at festivals around the world.
Among his award-winning feature films are "The Falling Man" about the photograph of someone who jumped, or perhaps fell, from the World Trade Center on September 11th, "The Untold Story of Baby P" about the death of a child of seventeen months in North London, and "The Blood of the Rose" on the brutal murder of filmmaker and conservationists Joan Root in Kenya.
Robert MILLER started his career in a human rights organization before moving on to documentary. He has over fifteen years of experience in developing and producing documentaries for the BBC and Channel Four, collaborating with Henry Singer in "Last Orders", "On Cold Friday in November" and "The Betrayed Girls".
His television series on the care of the elderly, "Protecting Our Parents", was described by The Radio Times as one of the most important programmes on British television and has been nominated for the Broadcast, Royal Television Society and BAFTA awards.