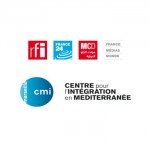 The Centre pour l'Intégration en Méditerranée (CIM) and the France Médias Monde group (FMM) have signed a memorandum of understanding to collaborate in spreading knowledge and solutions to meet the challenges facing the countries of the Mediterranean region. In doing so, both parties aim to advance the implementation of transformational reforms and integration across the Mediterranean basin.
This collaboration will focus on a number of themes which require collective action to help the region meet its challenges. These themes include: trade and the economy; employment; the environment and climate change; the inclusion of women and youth; mobility and the diaspora; towns and urban development.
The collaboration will take various forms:
Co-production of a trilingual televised debate about the Mediterranean, in collaboration with MuCEM (Musée des Civilisations de l'Europe et de la Méditerranée);
Collaboration in promoting events organized by the CIM around themes of common interest;
Collaboration at the level of content relevant to the FMM Group's television and digital media.
The CIM is a platform bringing together development agencies, governments, local authorities and civil society all around the Mediterranean. The aim is to exchange knowledge, discuss public policies and to identify solutions to the region's problems. The members of the CIM are: the Palestinian Authority, Egypt, France, Italy, Jordan, Lebanon, Morocco, Tunisia, the City of Marseille, Provence-Alpes-Côte d'Azur (PACA), European Investment Bank (EIB) and the World Bank Group.
Source: communiqué de presse du Centre pour l'Intégration en Méditerranée