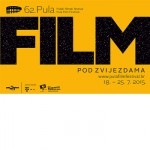 On June 10th the Pula Film Festival presented the programme of its 62nd edition which will be held in Pula, Croatia from July 18th to 25th.
It takes place in the auditorium of The Arena, the name given to the Vespasian amphitheatre dating from the 1st century AD which dominates the city centre.
The festival has two main sections:
– Croatian competition, mainly for feature films but also with a selection of Croatia's best short films.
– The international section, with 14 films in competition and 12 screened out of competition. Croatian cinema is continuing to grow, this year no fewer than 75 films were submitted (28 features and 47 shorts) for the Croatian films category. From these, 14 feature films and 16 short films were selected. For the first time, a television series is also scheduled: Dennis Kelly's "Utopia". There will also be the world première of Serbian director Stevan Filipovićsera's "Next To Me". The out-of-competition categories include a selection of films for young people and children.
The jury – Kristijan Milić, Srdjan Kurpjel, Zlatiko "Kico" Burić, Bernd Buder and Maurizio Braucci – will award the Golden Arena for Best Croatian film.
The international selection is diverse and cosmopolitan. Audiences will discover many films which have either been selected for major international festivals or won awards. The international jury consists of Olinka Vistica, Srdjan Drogojevic and Christopher Goodwin.
Source: pulafilmfestival.hr, screendaily.com et filmneweurope.com